Immerse in a new
webcasting experience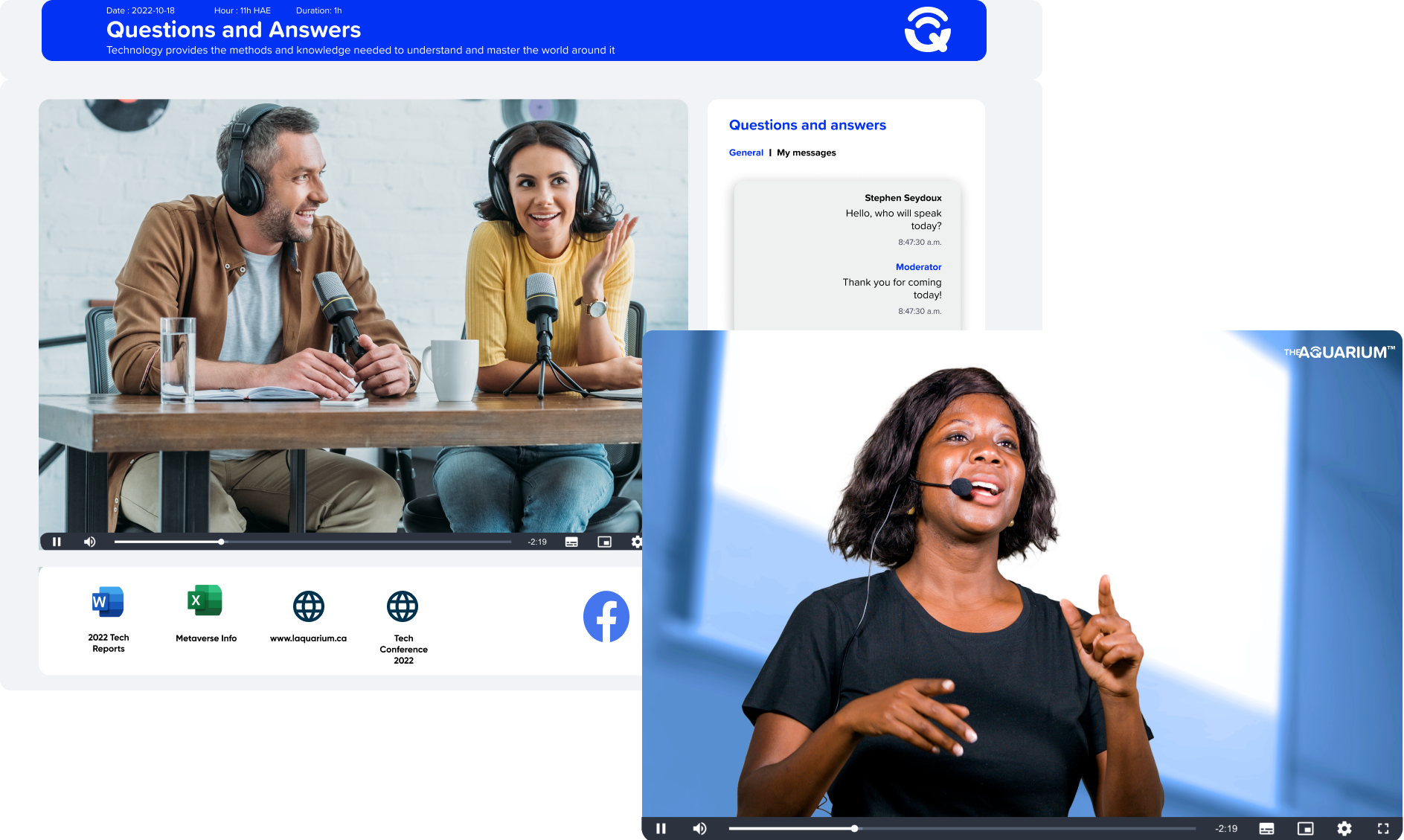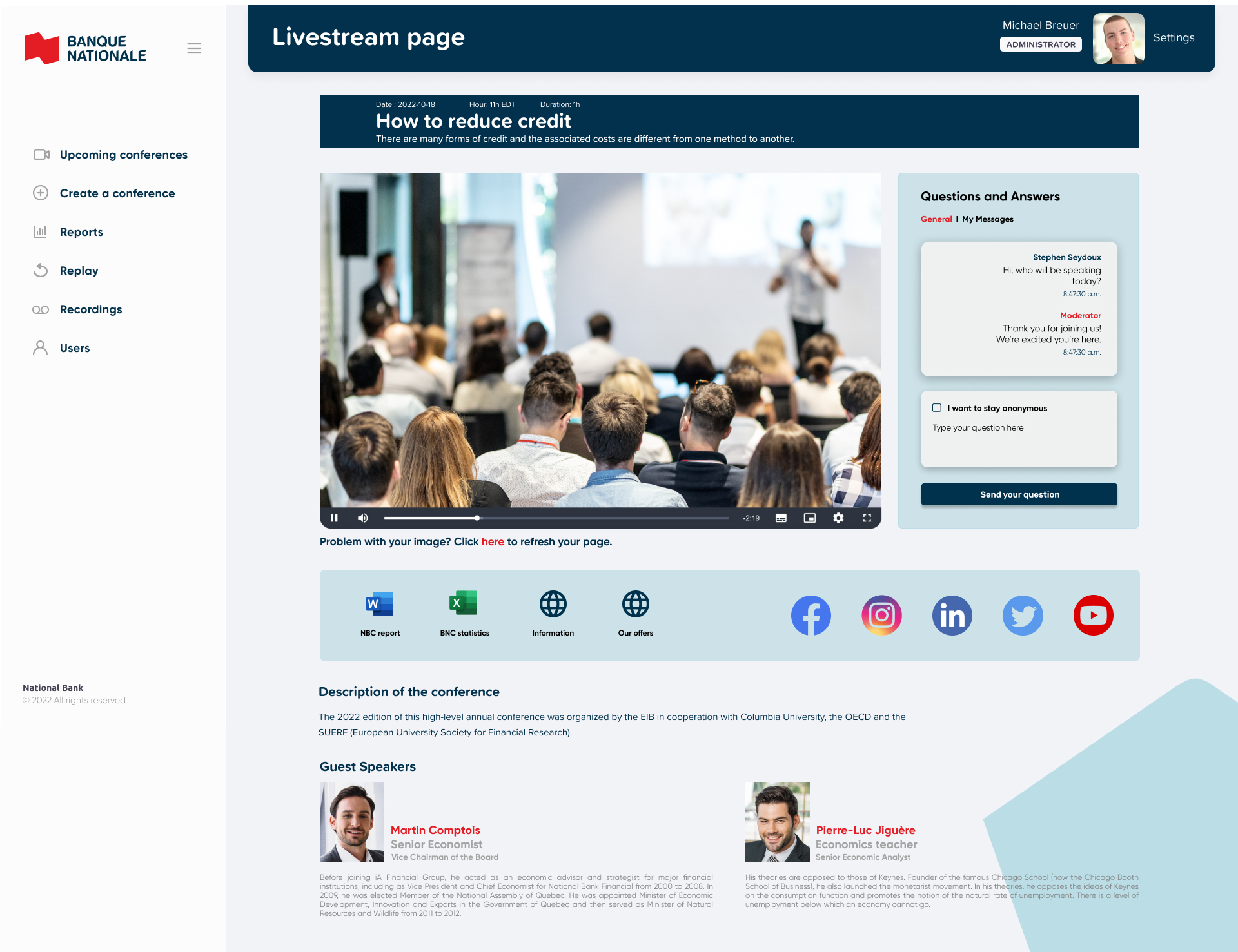 Say hello to personalized webinars
The live webinar has become a must-have tool in an effective digital marketing strategy. It's a way to gain authority in your niche market.
It allows you to get closer to your audience and generate qualified leads. With a webcast platform, you can take control of your live communications and turn your potential prospects into real customers.
A complete solution
To host your live events such as webinars, general meetings, product launches, press conferences, we have created the Auditorium, a professional solution created in Quebec and which is intended for companies wishing to push back the limits of webcasting.

From the registration page to the broadcast interface via the waiting room to the participation report, the Auditorium allows companies and producers to create and manage digital events in their own studio or in an environment that allows you looks like and which is yours.
A custom solution
Are you considering investing in digital events and creating a private webcast channel that you own from start to finish? We can upgrade your Auditorium and adapt it to all your company's needs in order to make it an effective lever of communication, productivity and control like nowhere else.
We care about the privacy of your data. That's why we've adopted a rigorous code of ethics and standardized cybersecurity processes to ensure the integrity of your conferences and your attendees' personal information. These standards guide our research to develop new practices for the benefit of our customers.
Main Features
Broadcast Quality (Streaming)
The Aquarium supports HD video with adaptive streaming capabilities.
Live Stream
We use the RTMP protocol (real-time messaging protocol). It is a protocol that facilitates the transmission of audio, video and data in real time.
Integration of add-ons
Embed iframes from third-party apps directly into your event, be it Youtube, Slido, Stipe, Hubspot, or any other app of your choice.
Chat with or without moderation
Live chat or moderated chat is available to filter interactions with your audience. An anonymity option is available for your participants and the moderator has a host of features to facilitate interaction.
Poll or vote
A poll or vote module is available.
Subtitling module
Give your attendees the opportunity to watch your event again with subtitles and in different languages ​​thanks to the automatically generated subtitling module.
Reports
Analyze your event attendance, number of registrants, session length, and your interactions with your audience.
Recording
Record your live events and give your attendees the opportunity to review them.
Multilingual event
Broadcast your event in several languages ​​and live. 100% English and French. Possibility to add other languages.
Social Media Integration
Share your social networks during your events.
Single Key Authentication
The Auditorium is equipped with a unique authentication key to access your events. This is a single-use, non-transferable token.
Panic button
The panic button allows participants to quickly reconnect in the event of an outage or failure.
Your webcasting studio
The Auditorium gives you all the structure you need to create your professional digital studio. Thanks to the RTMP protocol integrated into your Auditorium, you will be able to broadcast large-scale events in high quality. If you already own your production studio, you can easily use your own physical or digital encoder on your Auditorium to broadcast your event.
Hybrid mode

Are you already producing a face-to-face event and want to broadcast it simultaneously on the web?
Our hybrid mode was designed for that.

Simple mode

You want to webcast professionally directly from your webcam?
The simple mode will suit you perfectly.
Turnkey Event Production
Our team can support you in event production thanks to our turnkey production service. We can also help you set up your own digital studio with our tutorials and technical experts. In addition, thanks to our network of partners, we can offer you different recording spaces (with adapted sets and technical production teams).

Want to learn more about our comprehensive webinar production services? We can't wait to hear about you and your webinar project! Contact us today at gofish@laquarium.com

Ask for a demo